Our new design standard rabbit trap pictured below, available NOW , we are currently collating our field testing. The main improvements are even stronger wire, electro galvanized frame after manufacture, larger wire mesh treadle plate, longer trap to give the captured rabbit more room and a strengthening bar surrounding the open end to prevent the entrance distorting.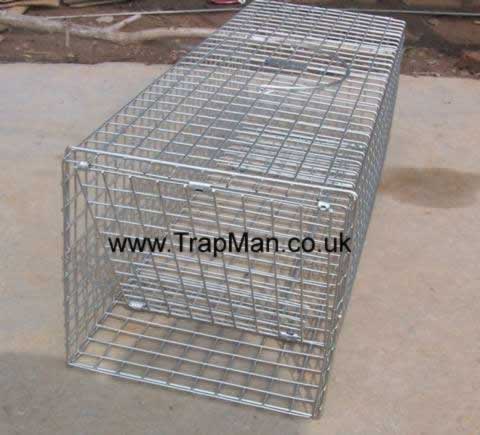 27" x 9" x 10"
The Trap Man rabbit trap should be sited where rabbit damage is occurring, other sources of food should be eliminated wherever possible. On grass fields or cereals this will usually start along the ditch cop, headlands or directly opposite burrows, Humane Rabbit Trap should always be sited as soon as damage is spotted. Ideally Live Catch Rabbit Trap, should be set out approximately 8mts apart, in a parallel line of traps about 4mts out from their cover, hedgerow, ditch cop etc. The Rabbit Trap can also be sited in open fields where rabbits have been observed feeding recently.
Rabbit Trap . Pack of Four Rabbit traps
Check the number of rabbits to gauge how many rabbit traps to purchase.
As rule of thumb the size of the rabbit population can be easily obtained by counting rabbits at the site of damage, during the daytime in heavily infested areas or at night, using a spotlight. Where feasible, the number
of rabbit traps used should be one half of the total number of rabbits counted. In glasshouses and allotments where only a few rabbits can cause considerable damage, a minimum of 6 rabbit traps should be used.
Sensitivity can be adjusted by bending the end of the setting rod up to lessen the sensitivity or down to increase the sensitivity. Check that the treadle plate is 20mm above the cage floor approx. 30°. Check the treadle does trip the door when pressed, and that the secondary door locks it correctly.
Once baited the Trap Man Live Catch Rabbit Traps MUST be visited regularly and AT LEAST ONCE PER DAY, other non target animals must be released unharmed. The bait inside the trap must be maintained under the treadle under the trap, but the trail of bait out side the trap should not be replaced once the rabbits have started to take it. Rabbits can be removed by slowly tipping the trap onto it's end and reaching in through the now open door or turning the trap over onto it's roof to open the door and let the rabbit run out.
Electro galvanised after manufacture
Treadle operated free fall door, with secondary lock...... keeps it shut
Carrying handle keeps your finger's out of harms way
Simple and easy to set
British made in our own workshop