The Trap Man live catch repeating Feral Pigeon trap

How do you catch feral pigeon? The trap Man multi live catch humane pigeon trap. The Trap Man feral pigeon trap is a multi catch repeating catch cage trap with one way opening, drop bar entrance giving you a superior trap and very effective trap,. The feral pigeon trap door is opened by the pigeon pushing their way into the trap which are then trapped in the cage.

Bait the trap with grain to attract the pigeon into the trap, this bait is laid on the floor of the cage trap round the inside perimeter . For effective trapping conditions, the area where The Trap Man multi catch feral pigeon trap should be pre-baited for several days before the trap is sited. Corn or dried bread should be used for bait. After the pigeons become familiar with the feeding spot, place Trap-Man multi catch pigeon trap over the feed. Bait the Trap-Man multi catch pigeon trap with a trail of grain on the outside of the trap and leading into the entrance door. Make sure you bait the inside the perimeter of the Trap Man multi catch pigeon trap so the pigeons can find it. Place a bamboo cane through the side of the trap and push the drop down bars to the roof of the trap, pass the cane under the bars to support them in the up position, leave the trap baited until the pigeons get acustomed to feeding inside the trap, when you are ready to trap the pigeons remove the cane to allow the setting bars to fall vertically.

. Check your Trap Man multi catch pigeon trap daily. The pigeons are removed by opening the small door on the top of the trap to assist capture removal. The Trap Man live catch repeating feral pigeon trap is ideal for rapid trapping of pigeons in built up areas in towns and cities and are currently in use by many pest control companies and local authorities throughout the UK and Europe

26" x 20" x 10"
Buy or get more information on TrapMan feral pigeon trap
If you want to catch just one pigeon and are targeting wood pigeon, collared doves or chickens use our folding single catch pigeon trap. This works on a treadle system...bait the trap using corn behind the tradle...pigeon walks in and steps on to treadle.......triggering the door to close......humane live catch pigeon trap....simple....effective.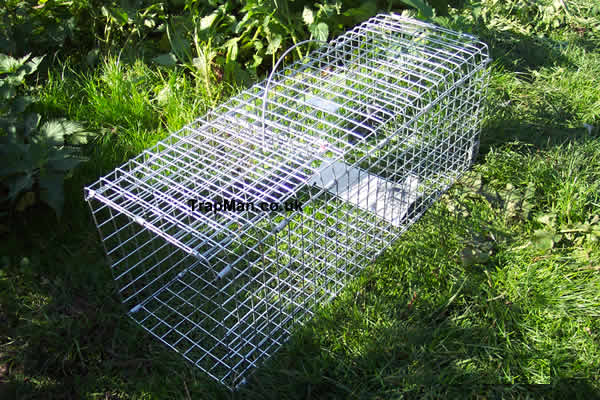 Buy or get more information on TrapMan single catch pigeon trap