Mink Trap, Trap-Man Humane Live Catch Mink Cage Traps
How to catch a mink using a Trap Man humane live catch cage Mink trap. The Trap Man humane live catch mink trap should be set near the bank of a stream, or where obvious mink tracks are visible. Set the trap by pressing on the side handle this automatically unlocks and opens the door, with you other hand reach inside the mink trap and place the setting bar under the spring loaded door. For bait, use fish, kipper or tinned cat food, cut in small pieces and placed under the trap under the treadle plate, so that the mink will step on to the treadle to reach the bait. Cover the trap with leaves, grass or sacking, leaving the entrance and rear of the trap clear.
The Trap-Man Humane Live Catch Mink Trap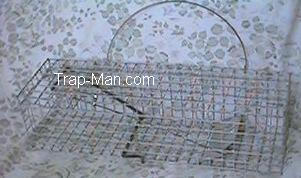 Mink trap details and how to purchase
Our superior trap manufacturing . v . Other's
Extremely strong resistance welded steel mesh 2mm wire 25mm x 25mm (1"x1")squares which is hot dipped galvanised after manufacture, rat proof design. Dimensions150mm x 175mm x 545mm (6"x7"x23"), 4.5mm diameter black iron door lock, strong spring loaded galvanised door, exterior door opening handle for easy trap setting and mink removal. High tensile steel setting rod with solid, wide galvanised treadle plate, large, long carrying handle keeps your finger's out of harms way. Don't be confused by cheap imitations clipped together with hog rings, c clips or plastic ties, this mink trap is built to last, by ourselves in our own workshop, the professional's choice.
Rust proof, hot dipped galvanised after manufacture
Single action to unlock and open door
Sprung lock shuts door and keeps it shut
Exterior door release handle for easy safe capture removal
Large, long carrying handle keeps your finger's out of harms way
Simple and quick to set
Made in our own workshop
Take a closer look at The Trap Man mink trap Here
Larger mink trap available click HERE



I E-mailed you a couple of weeks ago from the county of Herefordshire regarding the mink. The advice you gave me has been a real asset in catching the little buggers so far I have caught 4 (or the same one 3 times) 3 of them escaped and the other didnt. The trap I have was from countrywide and is very flimsy. The mink has forced the trap door forwards twice and since reinforcing it with wire it has pulled the door inwards once. These little fellas must be like ARNIE. I think next payday i will be ordering a mink trap from you as the one I have is clearly not strong enough to hold the mink overnight. Keep up the good work!! You will receive my order soon