The Trap Man superior trap manufacturing . V. Other's
The Trap Man take pride in the manufacture of our range of live catch and humane traps.
The Trap Man use the best possible materials to create traps targeted at just one animal, NO "one trap catches all" with us. Whether it be manufactured from plastic, steel, wood or welded wire all our traps are designed to safely and effectively catch the target animal, be it a Rat, Rabbit, Mouse, Mink, Fox, Squirrel or Stoat,
T
The traps are manufactured by us in our own workshop, they differ from many other makes because of their design and robust construction. The Trap Man traps are made using welded wire mesh with 1" x 1" (25mm x 25mm) square's, this wire mesh is formed into the correct size for specific trap and target animal, it is then resistance welded along all joints. This construction method is far stronger and considerably more rigid than the more common c clipped, wired or tied joints even if stronger gauge wire is used. The whole trap is electro galvanized to prevent the wire rusting,


Resistance welded joints on a Trap-Man trap
The Trap Man hold large stocks of these three traps, while in our storage facility the bright zinc like, galvanized frame ages to a more subtle grey which we have found to be better at catching rats and mink with. Newly made traps are coated with a type of oil after the galvanizing process this is difficult to remove without using harmful chemicals and weathers readily when stored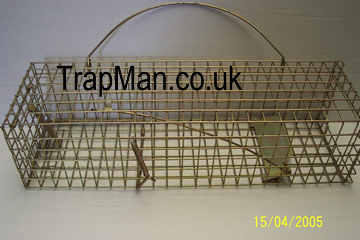 Trap Man Pro Gold Squirrel Trap
Note the electro galvanized after manufacture welded steel wire frame long enough to hold ALL the animal and a large carrying handle to protect your fingers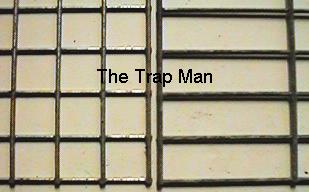 The Trap Man welded wire mesh against other's . The Trap Man mesh has twice the amount of wire than most cheaper mesh. The Trap Man line wires are centered at 1", other so called comparable manufacturers have line wires spaced every 3" a lot less wire for your money. The wire is not as strong and there is more chance the animal will hurt it's self or you due the the larger holes. The Trap Man wire has a galvanized finish after the mesh has been welded, other less expensive traps use pre galvanized mesh, this means the wire is galvanized first then it's welded at the intersection, the possibility of rusting is in-built.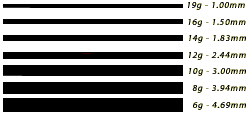 The table above gives the approximate wire diameter for a given gauge of wire, When comparing traps from different sources ask what gauge, mesh size and finish is used in the manufacture, you will see that The Trap Man traps are worth that little more