The Trap Man Bird Decoys
How do I stop starlings and pigeons dropping their load over my prized car when I park it on the drive ? The Trap Man Large Owl Decoy, this Large Eagle Owl Decoy will scare off the most reluctant bird squatters. Manufactured from plastic The Trap Man Large Eagle Owl Decoy resembles a main predatory bird of feral pigeons, starlings and gulls, when placed on close proximity to the roosting site it scares off would-be squatters.
Many people prefer to scare birds away,. The most common way of doing this is by positioning decoy birds of prey on the building. The results by using this method vary. Some find that their problem is solved immediately and the birds never come back, others find a small reduction in bird numbers.Correct positioning is essential to success and turning once a week does seem to give better results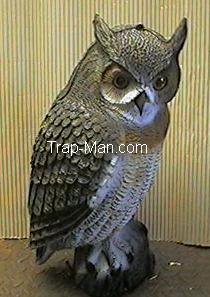 Owl decoy 20" approx.
NO LONGER AVAILABLE
Magpie Decoy
Used to scare off smaller birds can be hung from fishing line or fixed to a small cane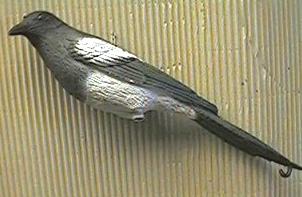 NO LONGER AVAILABLE
Hawk decoy used to scare pigeons and smaller birds, Our hawk decoy is best positioned above a large doorway to prevent smaller birds entering the building or placed on top of a tall bamboo cane threaded through the centre of a tree to scare birds from your fruit.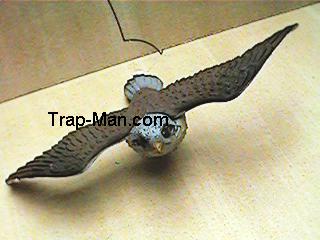 learn more about our hawk decoy
The hawk decoy relies partly on the shadow of its body and wings on the ground to scare birds as well as its outline in the sky. This Flying Hawk or Kestrel must be suspended from a suitable pole, open tree branch or fishing line above the target area to prove effective
we can not guarantee in any way that your bird problem will be solved using decoys.
Customer feedback
Decoy owl. Order received ,very realistic almost too good to put in a tree ,missus wants it in the house but I cant stand the birds crapping on my new car !
many thanks J A