Traps Live Catch & Humane Traps
Live catch & humane fox traps, rat traps, squirrel traps, mouse traps, feral cat traps, rabbit traps, rat traps, magpie traps, mink traps, mole traps, feral pigeon traps, mouse traps, pheasant trap, crow trap, starling trap and other humane cage traps.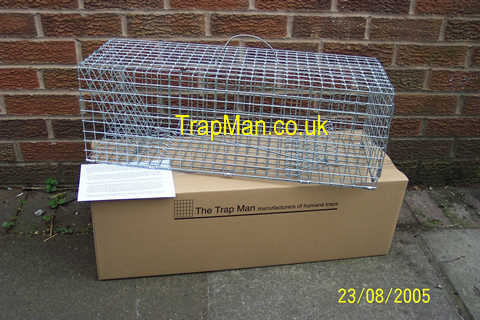 .
.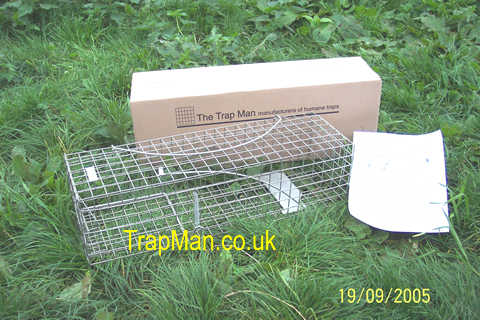 UK Trap maker The Trap Man
The Trap Man. UK Trap manufacturers & suppliers of humane and live catch animal / vermin traps for quick UK delivery from our own large stocks. These include humane rabbit traps (single catch rabbit trap, folding rabbit trap and proessional rabbit trap,) rat traps (kill type rat traps wooden rat trap selfset rat trap, humane rat traps monarch rat trap, family 14" rat trap, . mole traps ( scissor mole trap, tunnel mole trap., professional scissor mole trap, feral dog trap. Humane mouse traps ( multi catch mouse trap, wind-up mouse trap , kill type mouse traps, selfset mouse traps, pheasant trap, feral pigeon trap, wood pigeon trap, humane feral cat traps (feral cat trap, professional cat trap) , sparrow multi catch trap, squirrel trap (squirrel trap. professional squirrel trap & run through squirrel trap) , fox traps, longer fox trap, , magpie trap ,larsen trap, crow trap, rook trap and humane mink traps ( mink trap and run through mink trap ).Crayfish traps
..
We keep our trap prices very low by conducting all our business over the Internet, via e mail or directly from the relavent animal trap page. The Trap Man does not have a shop, our traps can only be purchased online or from one of our Trap distributors
Many other trap designs are available for manufacture to order, including live single catch humane traps, run through traps, tube traps, barrel traps and live multi catch humane traps, for skunks, squirrel, mink, muskrats, badgers, weasels, chipmunks, bobcat, beaver, small dog, armadillo, pheasant, coypu, raccoon's, skunk, porcupines, opossums, glis glis, gophers, wild boar, ferrets and almost all other small or large animals
Special traps built to order
Discounts for large wholesale orders
Save money buy our trap packs.
Pack of nine folding rabbit traps
One more note.
We never use pop up advertisements, pop-over ads, full page banner ads or spyware. The Trap Man is an independent website, not just another affiliate program
Tip of the day
A mouse trap, placed on top on of your alarm clock will prevent you from going back to sleep
Remember The Trap Man gives you E mail help for as long as you own your trap, just quote your invoice number.