Longer Fox trap, same fox trap design......but a longer fox trap.
Dimensions 60" or 5 feet long x 18" wide x 19" high (not including slides)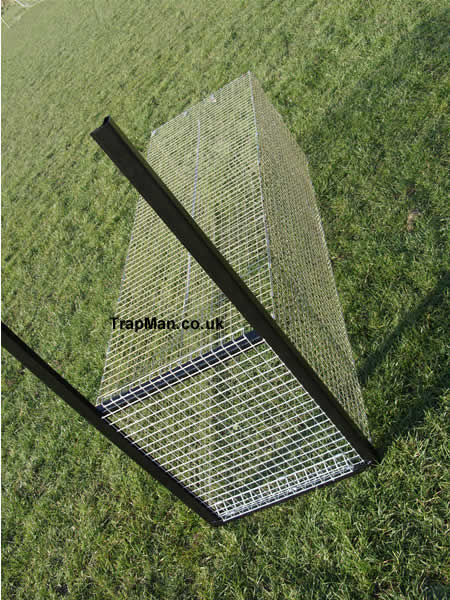 Pull bait operated free fall wire mesh door. Supplied flat packed for ease of delivery, unfolds like a cardboard box. Fix end panel and slide assembly using metal clips provided (instructions provided, approx. assembly time 10mins) You will require a pair of pliers to close the clips. Door slide assembly is not painted or galvanized. Wire treadle plate is a no cost option included with each fox trap !
Note the size of our fox trap, 60" long, the whole trap is utilized, unlike our competitors which use a inward closing door hinged from the roof of the trap which when closed shortens the effective trap length also the door seriously impedes the roof height. The Trap Man long fox trap door opening can be fitted tight against a fence hole or chicken run bob hole this disguise's the trap from the fox especially if the trap is used inside the poultry shed.
Also take a look at our heavy duty professional fox trap, this fox trap is made for regular fox trapping & professional use
Foxes can carry a number of diseases such as mange, rabies and parasitic worms such as Trichinella and Toxocara. Whilst it is possible for man to contract these conditions it is not known whether foxes do actually pass them on to people or their pets and if they do, how serious a problem is it.