Simple design kill type traps that dispatches rats quickly with a strong spring action bar.
Cheap, effective and disposable on small infestations. best placed at right angle to wall or upstand in two's or three's at 6ft spacings along the rats path, use some type of trap cover to prevent other non target animals from being hurt (This is the Law)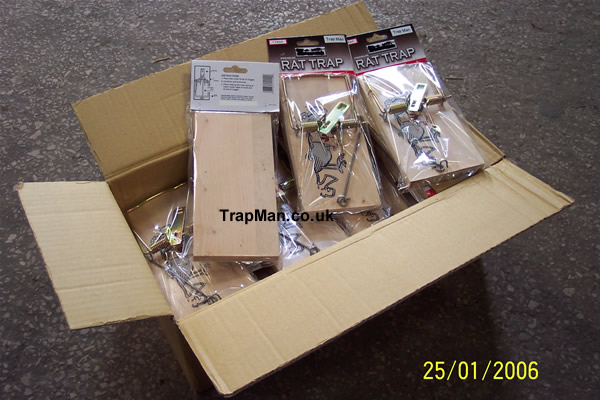 Rats are smart !.
.......Rats don't want to be caught,
................Rats won't go for the bait on the trap unless there is
.........................No other food available.
When handling dead rats, use precautions to avoid the possibility of disease transmission Use rubber gloves. Apply household disinfectants at recommended concentrations to dead rodents, rodent droppings, nest and surrounding area, and allow for at least 15 minutes contact time before removal. Clean the area with paper towels or a mop. Double bag the disinfectant-soaked rodent and cleanup materials securely in plastic bats and tie up the tops. Thoroughly wash hands with soap and water and dispose of gloves.